It's been an exciting month at Draftable and we're excited to share our latest updates to the Draftable Pro license. The updated below summarize key features from versions 2.9.0 and 2.9.1.
Enhanced algorithm for moved text
We are thrilled to provide customers with the most advanced "moved text" algorithm on the market. Our latest improvements mean customers can save time by avoiding reviewing moved (i.e. unchanged) text that was previously appearing as insertions and deletions. Our updated algorithm now shows text as having 'moved' (standard color markup in green) in the following scenarios:
When text is moved within the same paragraph
When text is moved to split from one to many paragraphs and vice versa
When text is moved to and from tables
When consecutive paragraphs are moved (shown together as a single change)
In addition to the above, we have also released fixes for some cases where the last row of changes were not being included as a 'move'.
Better reliability
Environment testing on installation
We know our customers have a wide range of environmental settings that can impact Draftable operations. To guide customers through appropriate setup for Draftable, we have implemented a 'local environment verification' test (pictured). This automatically runs upon installation and is also available as a troubleshooting tool in the settings menu.
The test automatically identifies when additional steps required to complete set up. By running on installation, we help customers preempt additional steps required rather than displaying errors when they try to run compares.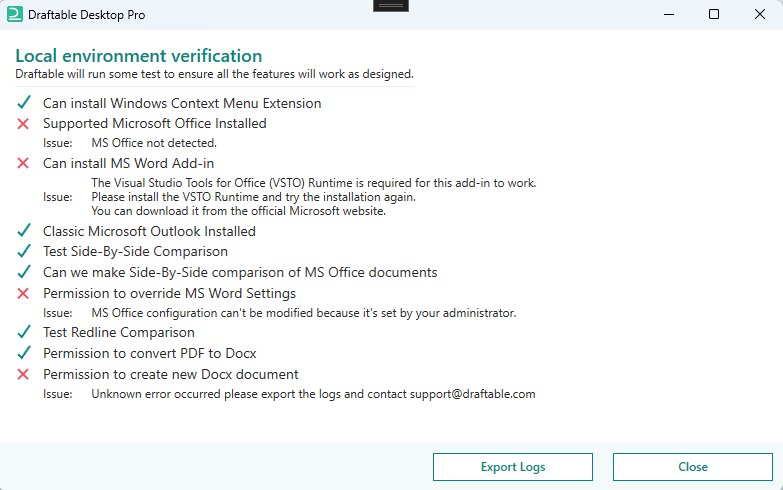 More knowledge base articles for environmental troubleshooting
As part of this initiative, we are also developing additional Knowledge Base articles. We have added 7 new articles to guide users through various additional steps to complete setup. These can be found in our Troubleshooting section.
In-app links to knowledge base articles
To make these and other guides accessible, we are also increasing the number of in-app links to our knowledge base make it easier for customers to use our product. The release features in app links to articles explaining:
How to get started
Redline settings
Integration setup
Email, print, save comparison outputs
Smarter error messages
If Draftable users still run into unexpected issues, our support team is ready to help. Our first step is always to ask for more information so we can diagnose and fix the problem. This always includes asking for error logs that the Draftable program generates.
To solve customer problems faster, we've updated our error message (pictured) to provide users with an option to automatically generate an email to our support team and attach the error logs we need to diagnose the issue. This means faster fixes and you getting back to running comparisons sooner.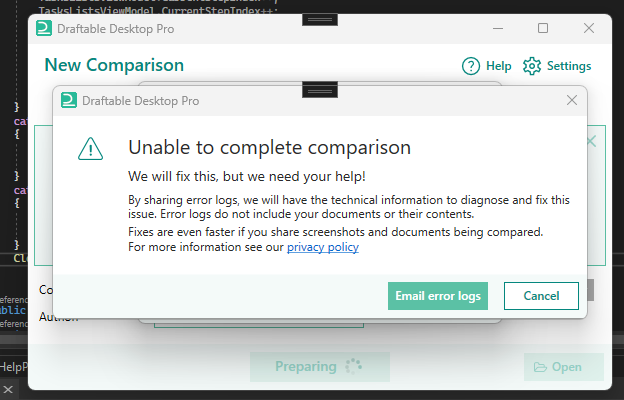 Improved usability
Finally, in addition to the above features our latest releases also included some changes to improve usability, namely:
Updated output filenames to match naming convention of ['older filename' vs 'newer filename']
Updated ribbon menu view to make it easier for users to find the 'changed pages only' toggle view in Draftable's PDF viewer