Draftable Legal is a powerful document comparison application designed for professionals who require fast and accurate comparison results. To make the most of its features, you can customize settings to match your specific use case and workflow. This article will guide you through the Draftable Legal settings, providing you with a comprehensive understanding of how to configure the Draftable Legal to best suit your needs.
Opening the settings menu
There are 3 methods that allow you to open the settings menu for Draftable Legal.
Open the settings menu via the taskbar
Right-click the Draftable Legal icon in the taskbar
Select Settings as the 2nd option

Open the settings menu via the New Comparison Window
Open the New Comparison window
Select Settings in the top right of the window
Open the settings menu whilst viewing a comparison
Have the comparison viewer open
Select File in the top left of the screen Settings in the top right of the window

Select Settings as the 2nd option

General Settings
General settings users to configure application wide options for Draftable Legal. Here, you can set your preferences for scanned documents, startup options, shortcuts and options for sending telemetry data such as usage and error reports.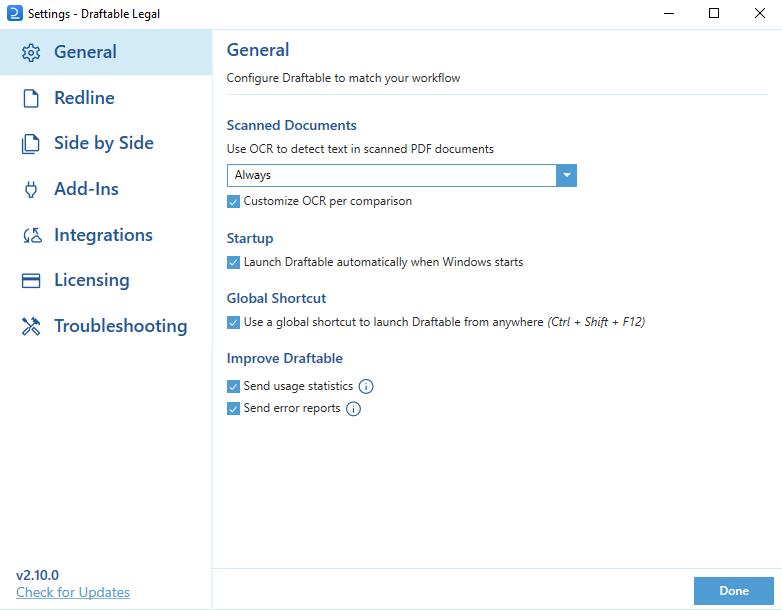 Redline
The Redline settings section enables users to configure Redline comparisons to match your requirements. Here, you can adjust many settings such as comparison options, markup schema and much more. You can read more about Redline settings here.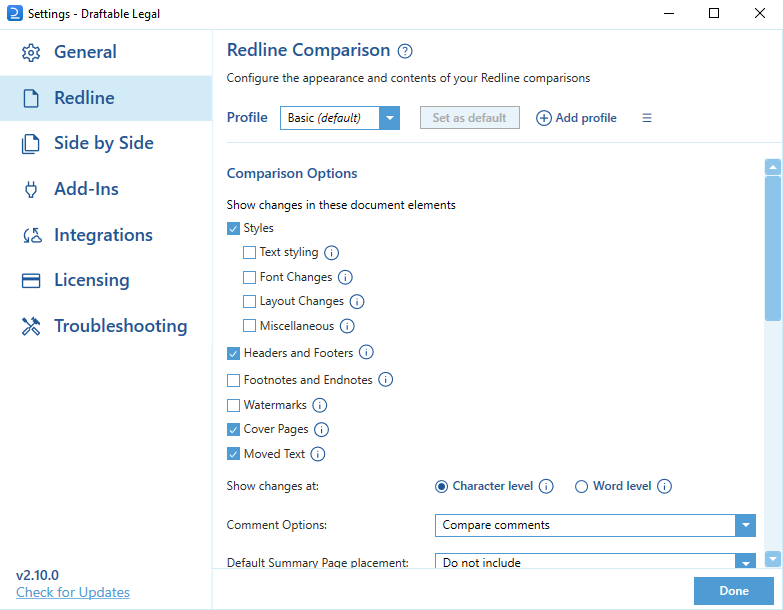 Side by Side
Side by Side settings section allows users to personalize how their side-by-side comparisons look. This section lets you configure comparison output and viewer options, and you can read about that here.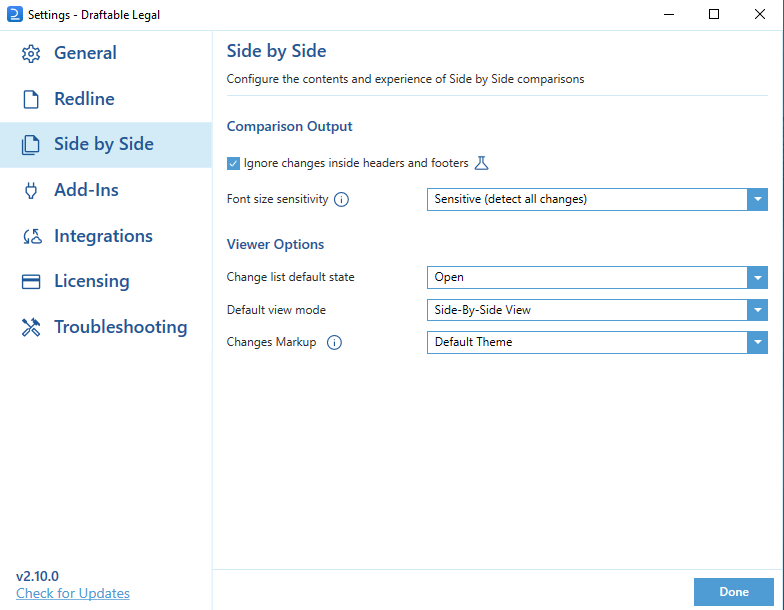 Add-Ins
Add-ins are additional components from applications that can be used in conjunction with Draftable Legal. Here, you can manage the add-ins and extensions.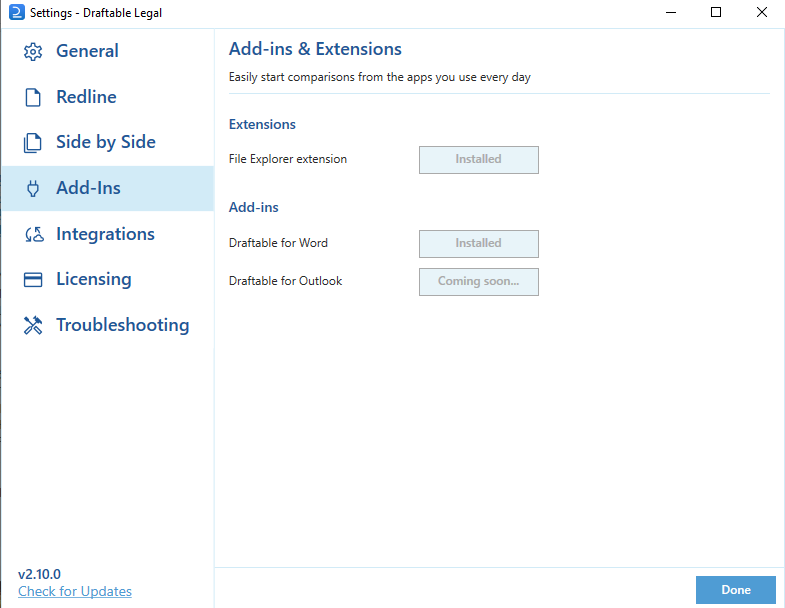 Integrations
The Integrations settings section enables users to manage connections with other applications and services, such as cloud storage providers or document management systems. Here, you can configure your iManage account for use of iManage within Draftable Legal. If you want to connect your iManage please see our articles here for iMange (on-premise and Cloud).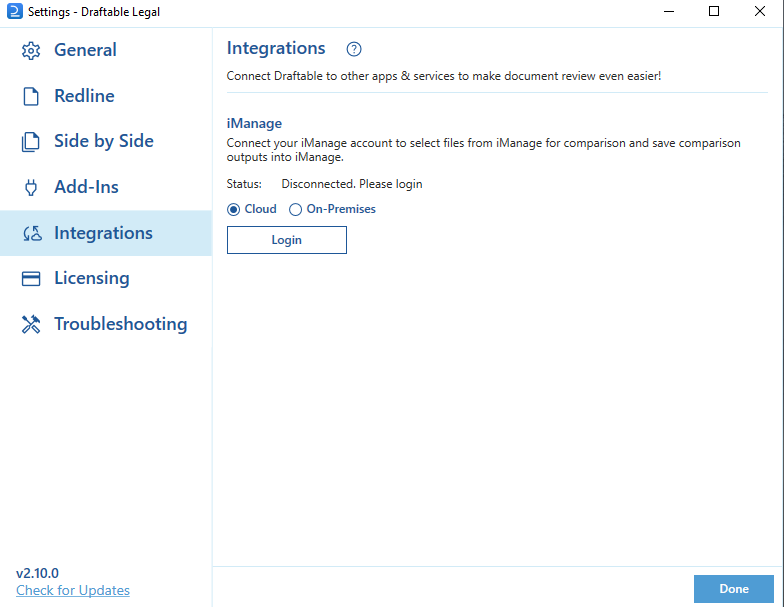 Licensing
Licensing section allows users to manage their Draftable Legal license. Here, you can view your license details, such as the license type, days left in subscription, and product key. You can also deactivate your current license in this section to.

Troubleshooting
The troubleshooting section provides you with options for troubleshooting issues with Draftable Legal. This includes exporting error log files (to share when contacting support), performing a system verification to ensure Draftable Legal will function with all its features, and disabling hardware graphics acceleration for troubleshooting.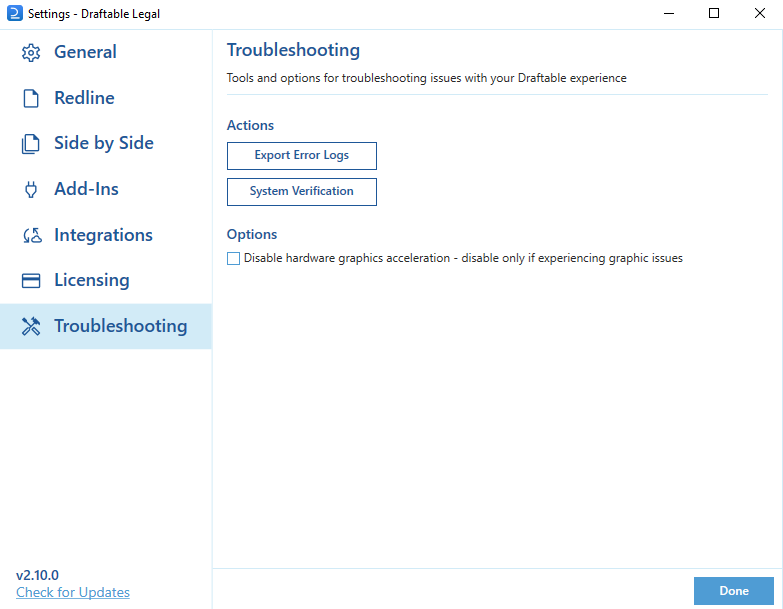 Need further help?
If you are having difficulty or wanting to learn more about Draftable Legal settings, get in touch with our support team at support@draftbable.com and they will assist you in whatever query you may have.