Comparison settings give users the ability to define the content and appearance of comparisons, which provides more precise and tailored comparisons to their needs.
Draftable Pro has a dedicated comparison settings section, which provides many options so that your comparisons appear the way you want them to. This article includes information on the following topics:
How to access the redline comparison options
Comparison options and definitions
Settings for tracked changes authors
Ability to customise the markup schema
Accessing redline comparison options
Right-click the Draftable Pro icon in your toolbar and select Settings. Then in settings, go to the Redline tab. Here you have access to all the options that allow you to configure the appearance and contents of your comparisons.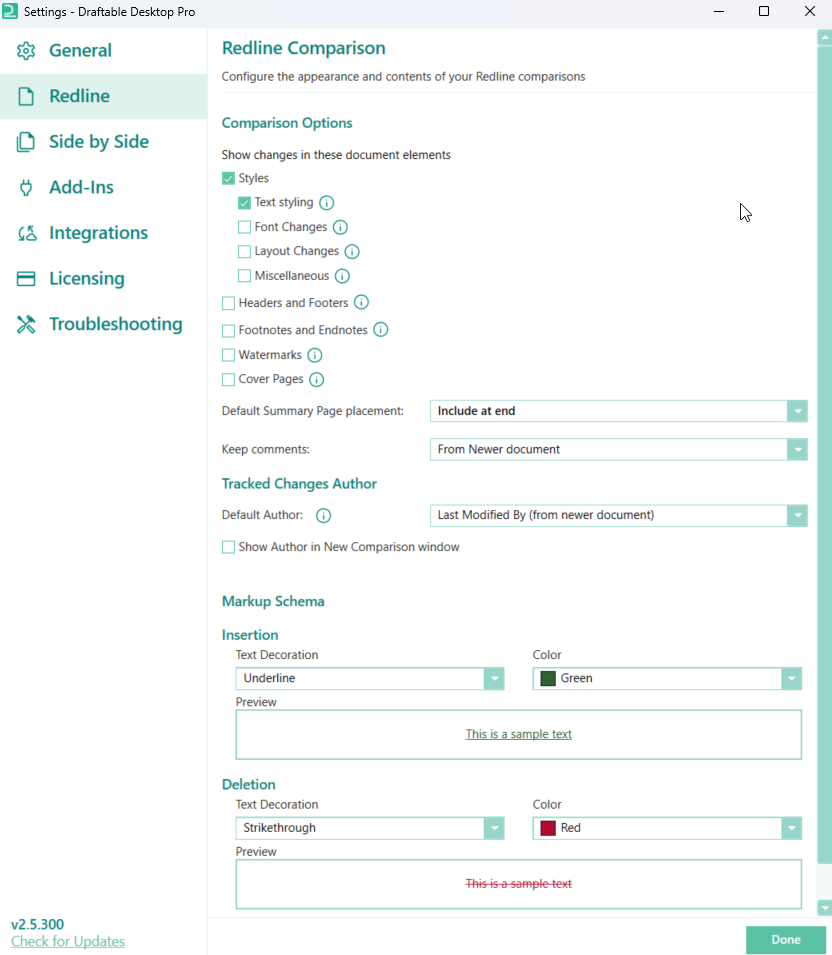 Comparison options
Comparison options can be controlled by the user to control how the comparison behaves and looks.

Styles: Text styling includes changes in how the text appears. Disabling this option will disable the 4 styles sub-options below.
Text styling: Text styling includes bold, italic, caps, underline
Font changes: Font changes include font, font family and font colour
Layout changes: Layout related includes indent and text alignment
Miscellaneous: All other styling changes
Headers and Footers: Compare headers and footers in the document, including page numbering change
Footnotes and Endnotes: Marksup for footnotes and endnotes changes will be shown
Watermarks: Will show both old and new watermarks on the document
Cover Pages: Markup for changes on cover page will be shown
Default summary page placement: The default summary page placement option allows you to add a summary page to the output and there are 3 options:
Include at end: Adds a summary page at the end of the output
Include at start: Adds a summary page at the start of the output
Do not include: Does not add a summary page
Keep comments: The keep comments option allows you to select which comments are maintained from the documents in the comparison:
Skip comments: Do not include any comments in the comparison
From older document: Keeps comments from the older document
From newer document: Keeps comments from the newer document
From both documents: Keeps comments from both documents
Tracked Changes Author
There are specific options for the author of comparisons that are made using Tracked changes.
Default author: The author name that will be used for all changes in the Tracked Changes document outputs. It has the following options:
Last modified by (from newer document): Uses the author from the newer document
Document author (from the older document): Uses the author from the older document
Custom value: If selected, allows you to enter your own custom string of text as the author within this settings window
Show Author in New Comparison window: Displays the author name within the New Comparison window.
Markup schema
You can edit how the markup schema looks in your comparison or both insertion content and deletion content. Customisations include text-decoration and color for these detection's, and a preview is shown whilst you make these selections.

For text decoration, options include:
None: No text decoration is performed
Bold: Bold style change is added
Italic: Italic style change is added
Underline: Underline style change is added
Strikethrough: Strikethrough style change is added
For color, there is a range of colors that can be chosen to best suit your preferences.
If you want to confirm your changes for the markup schema, ensure you click save.