The Draftable Legal outlook Add-in is a powerful addition to your Microsoft Outlook application, as it speeds up the workflows for comparing not only documents from emails, but also text found in said emails.
This article provides a guide on how to use these features, for both the compare option and compare text option which differ in feature usage.
Where do I find the Draftable Add-in within Outlook?
Open any email that you wish to compare with the documents attached or the text itself within the email. Below is an example email used to show how this process is done.

Note the Draftable toolbar item at the top of Outlook as highlight below. Select Draftable to open this toolbar item.

Now you will be presented with two icons, one for Compare and another for Compare text. Compare allows you to select documents attached in the email for compare, whilst Compare text allows you to highlight text within the email to directly add to the New Comparison window for text compare.

Using the
Compare

option

If you wish to compare documents that are attached in your email, in the Draftable tab select Compare.

You will be presented with a new window which requests you to select two files from the list of attachments on the email. Select the files you wish to compare then click Select.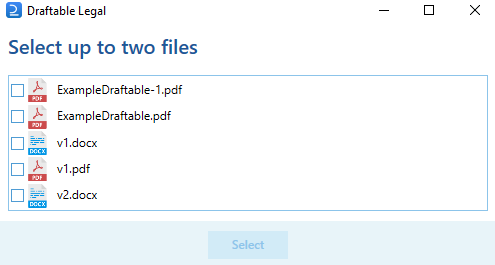 The New Comparison window will open showing the selected documents chosen in the last step. Simply hit Compare to compare these documents.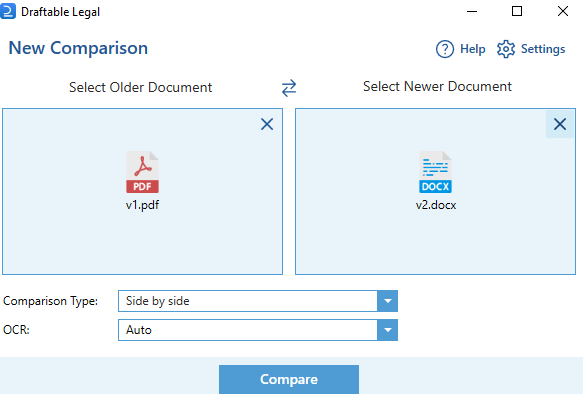 Using the
Compare text

option

If you wish to compare text from within an email, first highlight the text within the email you want to add to the comparison and then select Compare text. In the below example, the text "This is a Test email" has been highlighted.
The New Comparison window will open with the selected text from the email added to one of the text/document selection windows, as shown below.